RIGGING AND REMOVAL
Rigging and removing concrete is complicated and requires specialized knowledge to avoid damage or injury. Our seasoned professionals have all the right skills to accomplish the job.
Properly rigging concrete for removal is the key to success. We consult with engineers to determine the safest and most effective way to perform your work. Several factors must be taken into consideration by the project manager before going in. Doing the job right the first time means your budget stays on track and your timeline remains intact.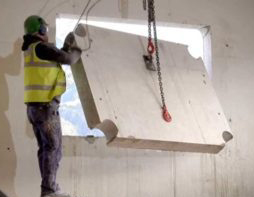 Our professional team will remove all types of concrete structures, including patios, floors, stairs, and walkways.
We have years of experience in removing concrete materials such as floors, walls, bridge decks, and slabs. Our professional crew has the expertise needed to cut structures into manageable pieces that can be safely removed either by machine or by hand.
Whether your job is indoors or out, call us for a free consultation. We will develop a plan to ensure your project's success.